| | |
| --- | --- |
| Best Viewed Using 3.0+ Browsers @ 800x600 HiColor | |
Now, English description is this first page only!

---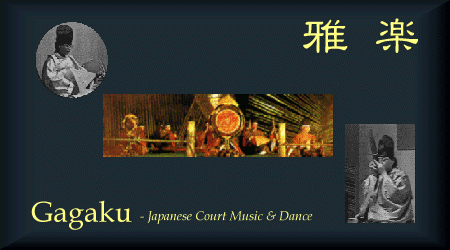 Sounds of antiquity, Elegance enduring
Sho ... The light that penetrates from the Heavens
Ryuteki ... The dragon that ascends dancing in the Sky
Hichiriki ... The voices echoing on the Earth
When all sound together a Cosmos can be heard
Imagined by those now distant Elegant in the flickering candle of time
Sounds of antiquity, Elegance enduring


Have you heard of Gagaku? Although sometimes heard at Shinto-shrines, japanese style wedding ceremonies or court event, it is a form of Japanese classical music rarely heard even in Japan. Being involved with both the cutting edge culture of the Internet and the most ancient (of ensemble music) musical culture of Gagaku gives me the unique opportunity to provide as best I can an accessible introduction to Gagaku in these pages.

---
Gagaku

Gagaku has been performed for over 1200 years. It has been carefully preserved and handed down to present day as music of the Japanese Imperial Court. This page explains the history and the varieties of Gagaku that are performed.

Gagaku Instruments

The instruments most commonly associated with Gagaku are the Sho and the Hichiriki. Besides these, the Ryuteki, Biwa and a number of other instruments are used. This page features the sounds and images of Gagaku instruments.

Gagaku Information

Featuring information on Gagaku CDs, books, and performing ensembles. This page also offers listings of Gagaku performances and events for the benefit of all interested persons.

Gagaku Q&A

"I'd like to give it a try! Where can I purchase instruments?" I have gathered these and other questions on this page. I will also post and answer other questions as they come in
---
Thanks to Larry Tyrrell

* Nakata Taizo reserves all rights and responsibility for the contents of these pages
Access No.